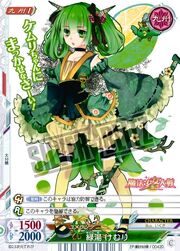 PROFILE
Name in Japanese
緑湯 けむり
Rōmaji Translation
Midoriyu Kemuri
Appears in
Zanbatsu
Voice Actor (Japanese)
Wakana Shindo
Character Design
Ikusa
Personal Info
Gender
Female
Hometown
Oita Prefecture

Kemuri Midoriyu is the magical girl representative of Oita Prefecture, accompanied by her misaki, ___.
She was designed by ____ and her voice actor is Wakana Shindo.
Appearance
Edit
Kemuri is fair-skinned with large lime eyes and long, lime colored hair pulled into loop-styled pigtails held by two pink roses and a long black ribbon. She has straight cut bangs reaching her eyes and straight cut forelocks just below her ears. Sticking out of each ribbon is a thin horn.
She wears an emerald sleeveless jacket styled like a Yukata. It is lined in gold with a floral design and a row of mint ruffles lining the hem. Pinned to the chest is a gold clover ornament with a small green ombre fringe hanging from a brown gem, while wrapped around the stomach is a thick dark blue-black ribbon tied into a bow. At the chest is pale beige ruffled material, while around her neck is a black choker. Comes with thick emerald sleeves lined by black and fluffy mint-colored material, covering her hands. Over her lower half is a pale beige pair of bloomers with a black strap around the cuff. Hanging from the back are several lime-colored petals. She weard plain black mary-jane shoes with pale grey bottoms and a set of angel wings attached to each ankle strap, along with a pair of pale yellow stockings with a black and white lace cuff.
Personality
Edit
Background
Edit
Abilities
Edit
Character Design
Edit
Key details:
References

Edit