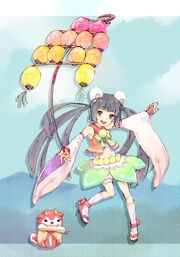 PROFILE
Name in Japanese
或辺とぴこ
Rōmaji Translation
Arube Topiko
Appears in
Zanbatsu
Voice Actor (Japanese)
Masumi Asano
Character Design
Ameiro
Personal Info
Gender
Female
Hometown
Akita Prefecture

Topiko Arube is a magical girl coming from the Akita Prefecture. Her misaki is ___.
She is voiced by Masumi Asano. 
Appearance
Edit
Topiko is a fair-skinned young girl with dark blue eyes and long, lavender hair worn in pigtails seperated into four long strands, held by a simple red band. On each side of her head is a big white mouse ear with pastel coloring inside.
Topiko wears a light orange tank-top on top of a light purple shirt held shut with a mint ribbon over her chest. Attached to the ribbon is a large, pale yellow pom-pom. Her skirt is mint colored with five large petals, resembling a flowered tutu. The skirt is accented by a belt of pale yellow pom-pom and a while tulle design, and are worn with white bloomers. Her shoes are pale red sandles with black bottoms and toe straps, snugly fitting with her white toe socks. On each arm is a long white cloth with a red glove clasped around her middle finger.
Personality
Edit
Background
Edit
Abilities
Edit
Character Design
Edit
References

Edit
Ad blocker interference detected!
Wikia is a free-to-use site that makes money from advertising. We have a modified experience for viewers using ad blockers

Wikia is not accessible if you've made further modifications. Remove the custom ad blocker rule(s) and the page will load as expected.